The M.A. in Mass Communication Program is designed to provide students with a hands-on approach that enables them to develop technical expertise, conceptual skills, and artistic expression necessary to become accomplished media practitioners. The program offers a range of theoretical knowledge and extensive communication skills in various fields, including Print, Online, Television Journalism, Social Media, PR & Corporate Communication, Advertising, Photography, Film, Television, Radio, Graphic Designing and Animation, Media Management, Event Management, and Research. Through these components, the program encourages students to adopt a creative, professional, and scholarly approach to media practices.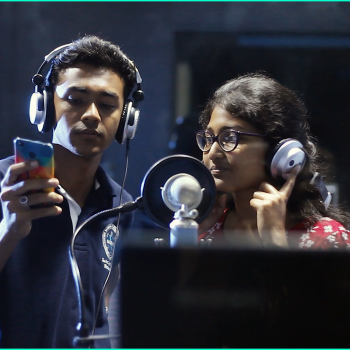 Graduates of the Mass Communication program have distinguished themselves in diverse media-related careers such as Journalists (TV, Print, and Online), Television program Producers, Film Directors, Documentary Filmmakers, Reporters, Editors, Camera Persons, Production & Graphic Designers, Advertisers, Public Relations Managers, Event Managers, Media Managers, Social Media and Digital Marketing Experts, Scriptwriters, Researchers, and Media Educators. The research activities, projects, and assignments help students showcase their accomplishments in media and communication.
One of the unique features of this program is the two-fold specialization in either of the three fields such as Advertising and Marketing Communication; Corporate Communication and Public Relations; and Journalism: Print and Electronic. This specialization allows students to focus on their areas of interest and develop the necessary skills for their future careers in the media industry.
MA in Mass Communication program consists of three streams of specializations. Students are free to choose any stream of specialization from the courses offered:
MA MASS COMMUNICATION COURSES
Sl. No.

Course Name

Course Category

Credits

Introduction to Media & Communication

Introduction to Advertising & Public Relations

Communication Models, Theories & Practices

Audio Engineering & Radio Production

Skill Development Course (SDC)

Digital Still Photography & Cinematography

Skill Development Course (SDC)
Sl. No.

Course Name

Course Category

Credits

Media & Communication Research

Social Media & Digital Networking

Multimedia Graphics & Designing

Skill Development Course (SDC)

Skill Development Course (SDC)

Summer Internship Program

Discipline Specific Elective Course (DSEC)
| Sl. No. | Course Name | Course Category | Credits |
| --- | --- | --- | --- |
| | Environment & Development Communication | | |
| | | | |
SPECIALIZATION I – ADVERTISING AND MARKETING COMMUNICATION
| Sl. No. | Course Name | Course Category | Credits |
| --- | --- | --- | --- |
| | Advertising & Marketing Communication | | |
| | | Discipline Specific Elective Course (DSEC) | |
| | Advanced Advertising & Brand Management | | |
| | Effective Writing for Advertisements | Discipline Specific Elective Course (DSEC) | |
| | | Discipline Specific Elective Course (DSEC) | |
SPECIALIZATION II – CORPORATE COMMUNICATIONS AND PUBLIC RELATIONS
| Sl. No. | Course Name | Course Category | Credits |
| --- | --- | --- | --- |
| | Corporate Communication - Concepts & Practice | | |
| | Online Reputation Management | | |
| | Public Relations Management & Client Servicing | Discipline Specific Elective Course (DSEC) | |
| | Crisis Communication, PR & Media Relations | Discipline Specific Elective Course (DSEC) | |
| | | Discipline Specific Elective Course (DSEC) | |
SPECIALIZATION III – JOURNALISM: PRINT & ELECTRONIC
Sl. No.

Course Name

Course Category

Credits

Data Analytics, Development & Data Reporting

Discipline Specific Elective Course (DSEC)

Discipline Specific Elective Course (DSEC)

Online Reporting, Anchoring & Editing

Discipline Specific Elective Course (DSEC)
Sl. No.

Course Name

Course Category

Credits

Discipline Specific Elective Course (DSEC)

Discipline Specific Elective Course (DSEC)
GRAND TOTAL = 23 + 31 + 26 + 21 = 101 Credits