Redefining Media Education in the spirit of 'Magis'
As Aristotle said "Educating the mind without educating the heart is no education", and I could never agree any less with Aristotle that "Communication must lead to change", Today when I sit down and ponder I am amazed at the power of "Communications" as a single most effective tool, giving sense and meaning to global, local and individual order. Without being hesitant I am glad to say School of Communications as a school has been successful in transitioning its students from 'caterpillars to butterflies', the tireless efforts of fellow colleagues, hands on expertise, internships, and industry collaborations have helped us scale up and be listed in the top 10 most preferred media and communication schools in the country by the Higher Education Review and The Academic Insights.
Our students have received special recognition in various competitions and events, working with some of the reputed media houses, and pushing their horizons to reach magis. All this and much more has been made possible because of the team that School of Communications has and the student community that has availed the opportunity to be a part of School of Communications. The mystical mystery behind calling  School of Communication's (a plural) is for the veracity and diversity of skills it imparts to its students, be it in the field of journalism, television production, radio, films, advertising, public relation, graphics and animation, digital and social media, photography, event management and all that qualifies robust dynamic media education.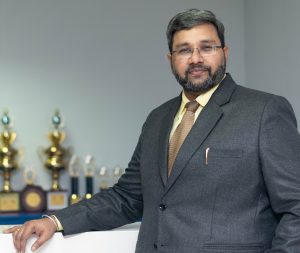 Dean, School of Communications
Join us for the preparation of life with distinction; for that is what Jesuits education is all about; and unequivocally the School of Communications is synonymous to this belief system. Living by the distinctive Jesuits vision which affirms the radical goodness of the world charged with the grandeur of magis, through education that regards every element of creation as worthy of study, exploration, and contemplation, capable of creating endless opportunities.
Be part of the journey in being a catalyst that is known for redefining "Change".
Those who are interested in pursuing media as a career, School of Communications offers B.Sc. Honours in Mass Communication, MA in Mass Communication, Doctoral Studies and short-term Diploma and Certificate Programs. The major courses which students desire to specialize at School of Communications are Media Research, Digital Journalism, Television Production, Advertising, Marketing Communication, Corporate Communication, Public Relations and Event Management, besides the skill-based courses like Photography, Videography, Audio Engineering, Designing and Graphics. Students at School of Communications are provided adequate training by both in-house faculty and industry experts through workshops and seminars.
The excellence in media and communication studies at School of Communications is achieved through its state-of-the-art infrastructure, production labs, air-conditioned classrooms, round the clock Wi-Fi, and student residences on campus. School of Communications houses professional audio studios, studio floor, online TV Production set-up, Teleprompters, Edit suites lab and professional training in high-end software in the industry. "School of Communications Studio" is equipped with online video production facilities along with professional lights and grids. The lab is fully equipped with software for animation, imaging and graphic design. 
Faculty at School of Communications are well qualified with doctoral degrees with proven industry experience. They are more mentors than mere classroom lecturers. One to one guidance and tutoring make student life enjoyable and educative in every sense. Feedback by the students after every course helps faculty to bring in changes in the syllabus and make teaching and learning meaningful and enjoyable. Most of the courses have theory, practical and field exposure components that make our program different from others. Strategic Academic Advisory Board (SAAB) of the School consists of members from the industry who periodically review the curricula and relevance of the courses with respect to ever changing demands of the Industry.
Curriculum is designed in such a way that BSc Mass Communication students have to undergo eight full months of internships, and MA Mass Communication students have to complete six months of internship in the reputed media houses across India. Each student is assigned an industry mentor to see the ongoing progress of the student while they are engaged in internships. On completion of internships, students by and large are fully skilled to plan their career. Most of the students are absorbed by the agencies where they do their internships. We are glad to share that all our past students are employed either in production houses, news agencies, film industry, PR firms, Event Management companies, ad agencies, photo studios, social media marketing etc.  Career Advisory services (CAS) team of School of Communications plays an important role in creating a blend between curricula and industry exposure.
School of Communications imparts knowledge through practical and live projects. Students are encouraged to use these projects to file nominations in national level competitions. In the last year alone our students have won Best Director Award for the Documentary "Satabhaya"  and "Boonte Sapne" won best Documentary award. In the field of photography students have won several awards to name a few, one student won Biju Patnaik award for conservation of wildlife, another student was recognized by the Odisha Government as Youngest Female Photographer of Odisha. Students are always encouraged to participate in any event where they can showcase their talents and skills.
OUTSIDE OF CLASSROOM WALLS:
School of Communications conducts symposium, conclave, media quiz, workshops, industry talks, skype sessions and on field training at news studios, cinema sets, advertising and PR agencies, to help students engage themselves with the practitioners to evaluate their strengths and weaknesses with the timely intervention of the professionals and practitioners. These activities are aimed at bridging the gap between classroom teaching and industry learnings.
As the scenario in media industry is rapidly changing, School of Communications does make every effort to keep to the basics of media studies with greater commitment to excel in everything we do; aspire to be ever more fearless, creative and self-expressive; look for deeper knowledge in education where one makes ethically sound decisions always to protect truth, value life and respect humanity at all cost. The School of Communications welcomes you to be trained as media professionals in the spirit of 'Magis'.
Fr Donald D'Silva,S.J. , Ph.D